The Story That Counts – Terry Begnoche
Terry Begnoche's love for swimming started at a very young age when his mom enrolled him in lessons at the nearby community pool. Through his adolescence and into his teenage years, he became a certified lifeguard, swam on a winning high school team, adventured through local waters with his snorkeling gear and, eventually, earned his scuba diving certification – leading him to participate in scuba clubs such as the Great Lakes Aquanauts.
Terry's fondness of water and nature led him to a career in environmental safety, where he served in various roles, including environmental scientist, environmental compliance manager, and manager of environmental services, before landing at the Great Lakes Shipwreck Historical Society's Shipwreck Museum and Light Station at Whitefish Point in Michigan's beautiful upper peninsula. As site manager, Terry oversaw operations and assisted with research, discovery, preservation and presentation of shipwreck and light station history.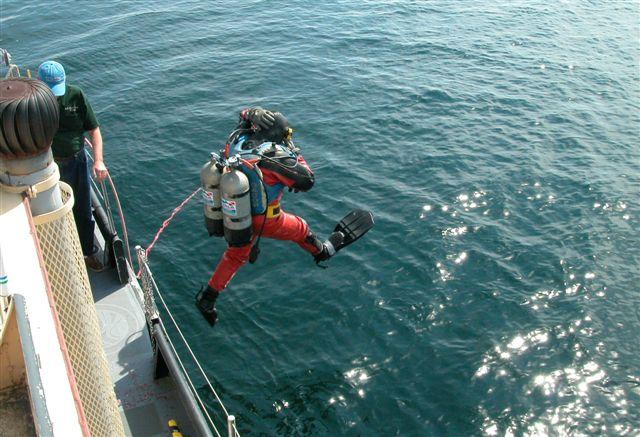 What A Difference A Day Can Make
On Sept. 18, 2014, everything Terry had come to know and love about being in the water took a drastic and frightening turn. At 225 feet below the surface of Lake Superior, Terry was wrapping up the filming of a newly found 1899 shipwreck when he realized he was drifting upwards and away from the ascent line.
"The filming and exploration went smoothly," said Terry, "so with about a minute to spare in my dive, I decided to start my ascent. With the ascent line right in front of me, I paused for a split second to turn off my video camera and lights when suddenly, I found myself slowly rising toward the distant surface away from the line. I immediately let air out of my dry suit to stop the rise…nothing to worry about – not usually a problem at all!
I was staying calm and controlling my breathing as I reached down to make sure my weight belt still hugged my waist, which would enable me to slowly sink back down – but it wasn't there. Apparently, I had just performed a filming dive at a maximum depth of 225 feet without my weight belt – a mistake I never make. I realized in that moment that I could really be in trouble! Back to basics learned in training…don't panic, observe and think, and move onto plan b.
I put my head down and kicked hard toward the secured line only to notice it was rapidly trailing away from me because I was rising faster than I could swim down towards it. I quickly determined that my best chance for surviving an uncontrolled ascent was to remain upright and continue to exhaust any air expanding in my equipment. I figured that if I reached the surface conscious and was able to breathe, I would swim to the bow and descend the line to attempt a missed decompression tactic.
I broke the surface conscious, pain-free and breathing normally. I determined the location of the boat and used my legs and diving fins to kick towards the boat. After what seemed like an eternity, I reached the boat and started pulling myself hand-over-hand down the line, which wasn't easy without a decompression weight belt. By this point, my mind was getting a little foggy and I was beginning to worry about the likely onset of decompression sickness symptoms. After an unsuccessful attempt in securing an extra air tank, I decided I needed to get out of water before I passed out or went numb. As I swam towards the swim ladder, a deckhand dropped a line and towed me to the stern. I could already feel my legs begin to shake under my weight even before I got them fully above water. The team on board jumped to my aid and got me the rest of the way out of the water before using a hoist to lift me to the main deck. They had already reported the emergency – but none of us realized at the time, that I was about to embark on a journey to hospitals via ambulance, helicopter and airplane."
Moving Into Uncharted Territory
As soon as he was pulled onto the boat, Terry started feeling prickly sensations in his body and lost control of his arms and legs. His rapid ascent had caused nitrogen bubbles to form in his bloodstream, cutting off blood to his spinal cord and other parts of his body. His decompression sickness was so severe that saving him required a helicopter rescue to a nearby hospital and subsequent low-altitude flight to Hennepin County Medical Center (HCMC) in Minneapolis — where doctors tried a treatment protocol that they found in the U.S. Navy Diving Manual.
the next 53 hours (a record) in a hyperbaric chamber where air pressure could be adjusted to give his body a chance to slowly clear the nitrogen bubbles – a procedure that medical director of HCMC's Center for Hyperbaric Medicine said is rare because most people succumb to their injuries before they make it to treatment. Though Terry had plenty of movies to entertain him during his two-plus days in the chamber, he also had plenty of time to think about what went wrong during the dive.
"In the water, my expertise helped me stay focused and calm," Terry continued, "but in the hospital, it's scary – especially when you know what's going on."
Keep Moving Forward, No Matter How Hard It May Be
"My employer (GLSHS) and family did all the work reporting the accident and determining the proper insurance options while I kept myself fully focused on my treatments and therapies. My job was to do everything the doctors, nurses and therapists told me to do while the worker's compensation team at Accident Fund focused on getting me the care I needed while also trying to locate a proper facility closer to home. I was not cleared for travel for about a month because of the nature of my injury, so Accident Fund arranged for physical and occupational therapies at an affiliated rehab center attached to the hospital. The therapy was very helpful, but I was ready to get back to Michigan. The transfer hit a snag when I was finally cleared to travel because patients aren't typically transferred from one rehab facility to another – but the Accident Fund and hospital teams worked persistently until they got it figured out."
Terry's family and employer entrusted the Accident Fund team to identify treatment options closer to home and facilitate the transfer from Minnesota to the Rehabilitation Institute of Michigan in Detroit.
"The transfer and travel went perfectly thanks mainly to the professional Accident Fund team! They even booked me on a special low altitude air ambulance rather than risking a commercial flight at higher altitudes or a multi-day trip by car. I feel like they advocated for me every step of the way."
A Life Is Only as Important as The Lives It Impacts
Shortly after Terry's injury, Jean Kluiza – a senior claim examiner for Accident Fund – was contacted about his case. At that point, Terry was participating in physical and occupational therapy in Minnesota – he was making slow, but steady gains. Accident Fund had begun paying for Terry's daily transportation, home healthcare services and were actively looking for ways to allow Terry more independence.
"Terry doesn't make any decisions without doing his own thorough research," said Jean, "so he was throwing out ideas and teaching me a thing or two along the way as well."
As the team (including Field Nurse Jackie Webster) started working toward renewing and reinstating his driver's license, Terry researched hand-controlled vehicles, began driving lessons and earned the ability to drive independently again! Getting behind the wheel and driving with hand controls took some getting used to, but Terry's safety background came in handy as he re-engineered the tie downs and straps within the vehicle to make himself more comfortable.
Terry was very driven in his recovery from the beginning—and because of his commitment to rehabilitation, an E-stim bike was purchased for his home, which is not a home purchase a carrier would typically cover. But Terry's ongoing drive made the purchase more than worthwhile – saving him time at the Rehabilitation Institute of Michigan (RIM) and reducing the hours spent in physical therapy.
"Due to his incredible dedication to recovery, he was presented with the Courage Award from RIM! Jackie and I were privileged to attend the award ceremony with his friends from the museum."
Even with his significant progress, Jean still saw in him someone who was missing exploration, so she teamed up with Trackchair of Michigan to get him an all-terrain wheelchair – not a 'reasonable or necessary' work comp benefit. He's now able to get out on his property with freedom to explore, which also helps mobility and his overall health. Terry and his family also creatively built a chair that would allow him to get into the lake to swim again. He chose Lake Superior, which is right outside their front door and holds a place special in Terry's heart.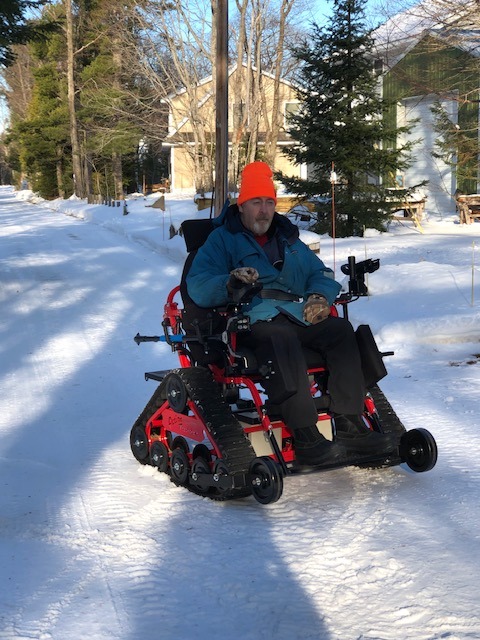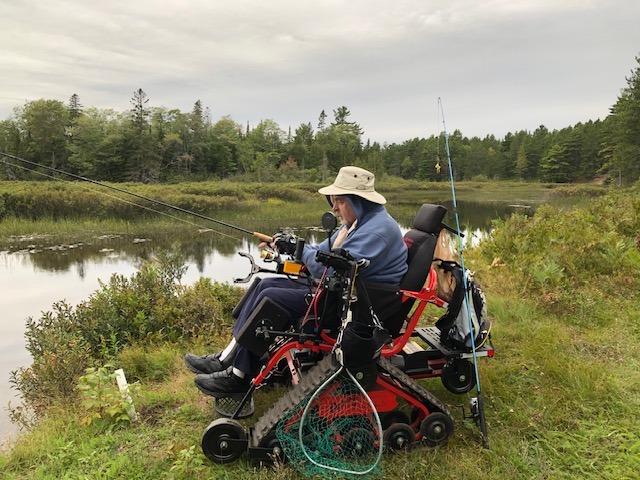 "Seeing pictures from that day remains one of my all-time career highlights! Through his journey, Terry has taught me so much about disability/ability life. I've also learned what 'reasonable and necessary' truly mean to an injured worker – which is an invaluable lesson as I continue my work in Claims."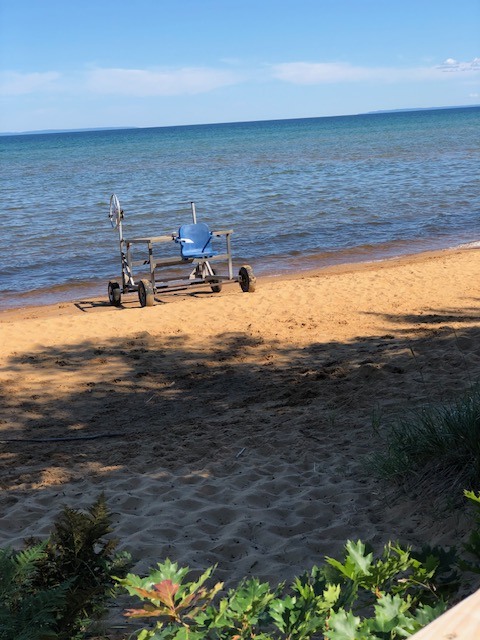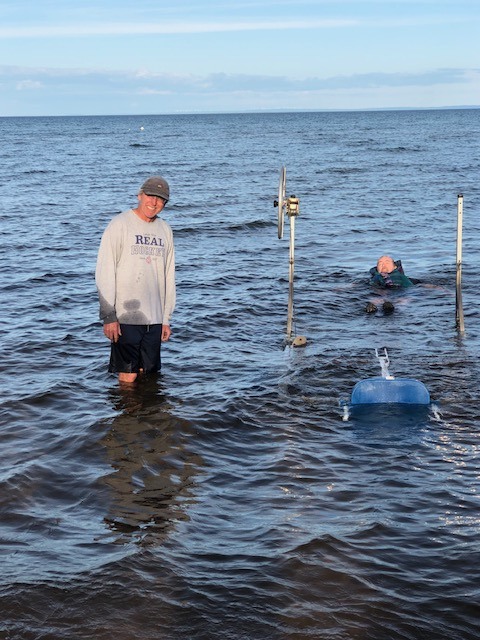 It's Not What Happens to You, But How You React to It That Matters
With all the progress Terry had made, he was feeling very optimistic about returning to the museum as a docent. But then the pandemic hit, and his life took yet another unexpected turn. The physical therapy he still needed before returning to work ended abruptly – and because his injury is near the breathing control area of his spine, his increased risk of contracting COVID-19 meant no face-to-face time at the museum.  Terry remains hopeful that he'll soon be able to spend two-to-three afternoons a week, teaching museum visitors about the exciting history along Lake Superior's 'Shipwreck Coast.'
Despite his terrifying experience in the water and his long, continuing road to recovery, Terry still loves any minute he can spend swimming.
"I think it's just part of who I am. I believe it helps me recover physical integration. I have discovered that when I swim (face-down), my legs don't help much because my body assumes a position close to sitting that makes my arms do all of the work. However, when I swim on my back, my legs tend to straighten more and I don't bend at the waist, so I'm able to get some usable kicking! Of course Lake Superior likes to tease me with wind and waves, so I've been using a mask and snorkel to avoid gulping down too much water. Floating in water removes the risk of falling and gives me opportunities to try different movements. I've always felt that getting out in the great outdoors helps to recharge joy in life."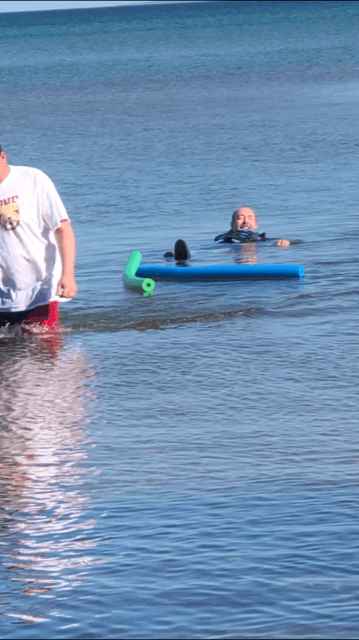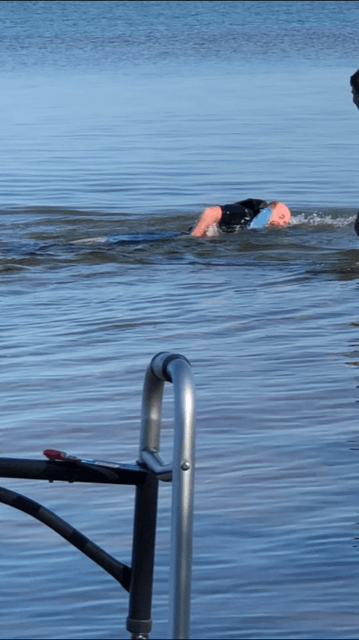 They Say Hindsight Is 20/20
"While immobile in the hospital, I spent a lot of time looking back on that day and replaying what happened. I made a rookie mistake that should have become evident early on in my dive, but a combination of unique environmental conditions masked the oversight during my first 50 feet of descent and didn't become a problem until I had buoyancy problems at the end of the dive.
But through it, I was blessed with meeting so many people who experienced injuries from all sorts of 'everyday accidents.' I learned from each of them and have a newfound appreciation for the fact that our life adventures can change dramatically in an instant. I knew I had to embrace this new modified life, but also realize I have a lot left to contribute!"
The Story That Counts
At Accident Fund, injured workers aren't a number…or file folder of claim notes. They're real people who want to get back to their families, back to their jobs and back to their everyday lives. They're why we're in this business – and why we do what we do. They're what matters — they're the story that counts. Terry and his wife Linda continue to correspond with Jean and the Accident Fund team, and we look forward to hearing about all of their adventures, and Terry's continued progress, for years to come!
Jean is the best! She's very professional with wisdom from experience and a strong human desire to help people, especially those trying to help themselves.