News
Winter Slips and Falls Decrease Over Last Two Winters
Workers' compensation insurance providers Accident Fund Insurance Company of America and United Heartland have reported improved claims results from winter slips and falls over the past two years. Both companies credit heightened awareness and somewhat milder winters for the improved results. Winter-ending claims in 2015 decreased 39 percent from the previous year, and winter slips and falls decreased another 23 percent during the winter ending 2016.
"Although the numbers are better, winter-related slips and falls have a significant negative impact on American businesses each year, resulting in time off work, temporary employee costs, overtime for existing employees and increased insurance costs," said Al Gileczek, president of Accident Fund Insurance Company of America. "To avoid these costs this winter, employers need to be extra vigilant and employees should exercise extreme caution during the next several weeks of winter."
Steve Cooper, president of United Heartland, echoed the sentiment. "The Midwest and many other states can have particularly challenging winters that often last through March and into April," Cooper said. "Although we can't change the weather, we can do much more to prepare and keep workers safe, beginning with some common-sense reminders."
Tips for Winter Safety
To help avoid injury when walking on ice and snow, Accident Fund and United Heartland offer simple tips:
Walk slowly and deliberately and wear boots or other slip-resistant footwear
Be prepared for black ice formation after melting occurs
Exercise caution when getting in and out of vehicles
Watch for slippery floors when entering buildings
Avoid carrying items, keep hands empty so arms are free to move for stabilization – use backpacks if possible
Along with this advice and to provide even greater slip and fall protection, experts from Accident Fund and United Heartland emphasize safety each year with an informative safety campaign. Beginning with snow and ice removal plans, the campaign addresses everything from proper salting and shoveling techniques to the importance of wearing the right footwear, and gives employers the resources and ideas necessary to create a campaign to help reduce costly workplace accidents.
Employers are offered a host of resources, including:
Winter weather preparedness plan guidelines
Ideas for proper snow removal procedures and equipment
Employee safety campaign materials
Weather communications suggestions
Recommendations for signs and barriers
Regular maintenance reminders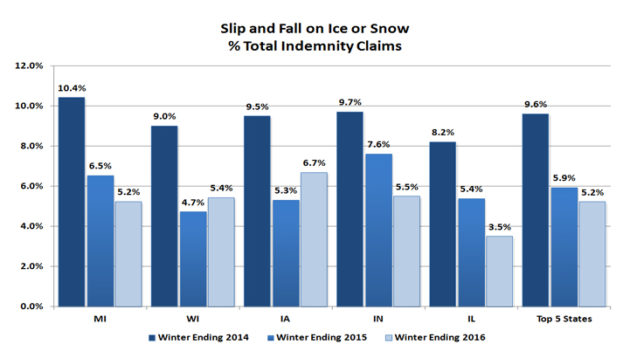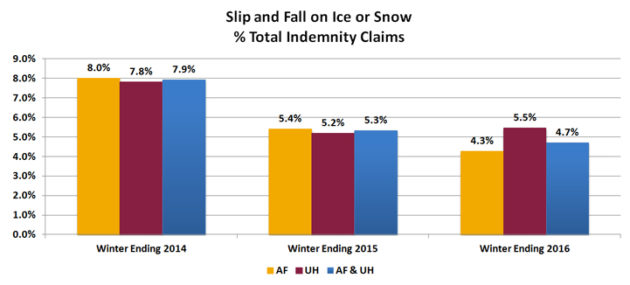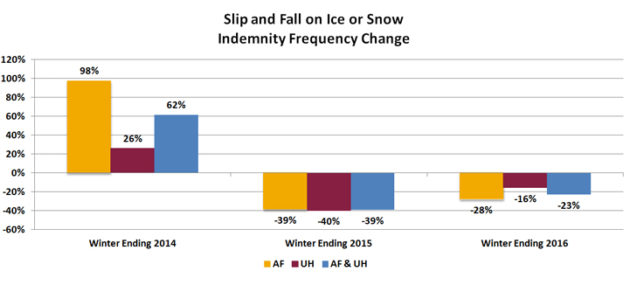 Recent Articles
October 23, 2023
October 17, 2023