Certified Authority on Workers' Compensation
The Short Story:
Virtual and in-person options available
Gain knowledge on workers' comp fundamentals, claims, loss control, return to work and more
95% program satisfaction rating
11-16 CE credits, depending on State guidelines
The Details:
The Certified Authority on Workers' Compensation program (CAWC) has been established in partnership with Olivet College, a recognized leader in insurance education. Grounded in AF Group's 100 years of industry success, the program offers a unique perspective on workers' compensation, combining business acumen with other key subject areas for an innovative learning experience.
Earning the CAWC designation provides a competitive advantage for agents and producers by giving them the tools and knowledge necessary to win business, create client loyalty and be viewed as an authority on workers' compensation.
The virtual CAWC course includes 12 hours of class time spread out over a three-day period. The in-person option is an 18-hour program lasting two and a half days. Both delivery options including the following course topics:
Workers' Compensation Fundamentals
Experience Rating and Modification
Claims
Loss Control
Return to Work
Alternative Workers' Compensation Programs
U.S. Longshore and Harbor Workers' Act (USL&H)
Classification Basics
Visit our events page to review a list of upcoming training dates. Contact us with any questions!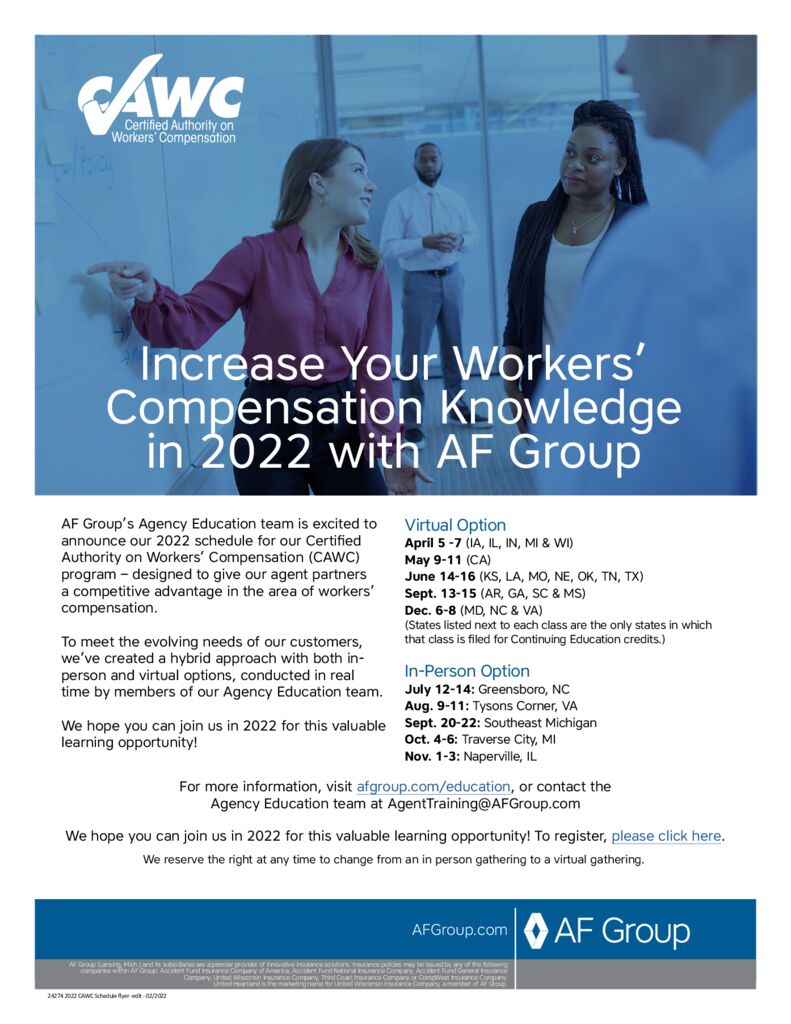 2022 CAWC Schedule
Virtual Option
Apr 5–7 (IA, IL, IN, MI & WI)
May 9–11 (CA)
Jun 14–16 (KS, LA, MO, NE, OK, TN, TX)
Sep 13–15 (AR, GA, SC MS, SD)
Dec 6–8 (MD, NC, PA, VA, UT)
(States listed next to each class are the only states in which that class is filed for Continuing Education credits.)
In-Person Option
Jul 12–14: Greensboro, NC
Aug 9–11: Tysons Corner, VA
Sep 20–22: Southeast Michigan
Oct 4–6: Grand Rapids, MI
Nov 1–3: Oak Brook, IL